Dune Imperium: Rise of Ix
The Dune Imperium: Rise of Ix (2022) expansion definitely changes the gameplay for this Dune board game. (See my review of Dune: Imperium for more on the original gameplay.) It took a second play of the expansion for me to get the hang of the new features and see their potential for new strategies, and there's more to explore in future games.
Here's a brief review of the expansion and my experience playing it in a two-player game.
The Rise of Ix expansion includes a CHOAM board overlay that sits on top of and expands the original game's CHOAM area. Rather than hoarding spice and turning it in for Solari (money), you now have freighter icons that let you move up on a shipping track to get shipping rewards. Rewards include gaining Solari or spice, recruiting troops and gaining influence, and/or acquiring tech. I found it more difficult to get Solari with the spice mechanism changed, and it takes a shift in gameplay to find new ways to get needed Solari, especially to get your third agent or seat on the high council.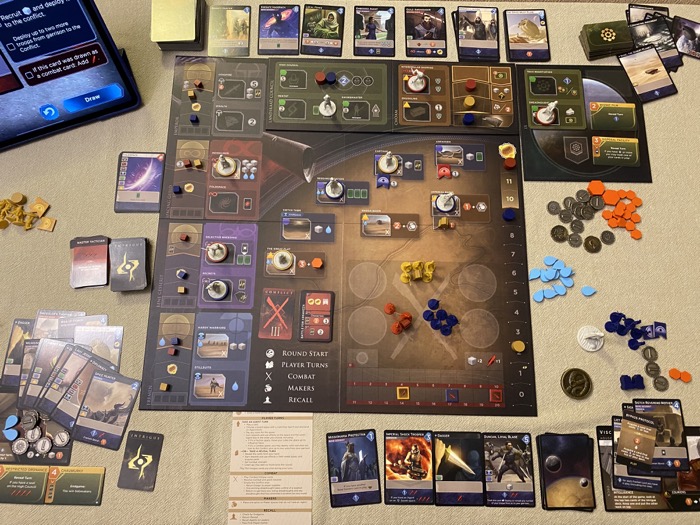 The expansion's other big change is the Ix board, with 18 tech tiles representing Ixian technology and machines. There is a new acquire tech icon that lets you take a face-up tech tile if you can pay the spice cost. The tech tiles range in usefulness. Some can be used once per round. The tech tile providing an additional four combat strength every round that my opponent had was particularly painful. Others don't seem worth all the effort, but could work in harmony with other parts of a strategy.
There are also new combat pieces called dreadnoughts which are worth three strength and have some other advantages. Unfortunately, the board spaces that let you commission a dreadnought don't also let you deploy it to the conflict. The rules indicate that this is possible, but it appears to be a rare occurrence. This made them less useful to me as a combat piece, and I found myself sticking to the regular troops and combat symbols on cards or intrigue cards.
I liked the new leaders and used the new snooper tokens with Tessia Vernius, and I like the concept of the infiltration cards that let you send an agent to an occupied board space, though I didn't manage to buy any. If you're looking to add some new complexities to the Dune: Imperium experience, along with new conflicts, deck cards, and leaders, this expansion is certainly worth checking out.
Dune: Imperium Deluxe Upgrade Pack
The Dune: Imperium Deluxe Upgrade Pack includes a big box with a pretty dark purple cover that can hold the original Dune: Imperium game pieces plus the Rise of Ix expansion ones. It is an upgrade to the original game, featuring plastic combat troop miniatures in four colors, plastic miniatures for agents and faction alliances and the Mentat, and a metal sandworm first player token. For those of us who like to keep games and their expansions together and organized, it is a nice accessory for Dune: Imperium.