I've been waiting for a science fiction novel like Na Viro (2022) by New Zealand author Gina Cole. Threaded with Pacific and Māori imagery, terms, and worldviews, it clearly represents Pasifika science fiction and showcases what Cole has termed 'Pasifikafuturism' in a beautiful and engaging way. It also centers on women's experiences—grandmother, mother, sister—and takes their strength and capability in the face of personal and technical challenges as a given.
Though great at what she does, the main character, Tia, has doubts and family troubles like all of us. She has to find ways to overcome her fear of deep space and the unknown, and unfamiliar peoples and cultures. Places like Devonport Base and Aotea Island make the story exude a distinctly New Zealand feel, overlaid with science fictional elements. There are red puffer fish spaceships, exosuits, cybernetic enhancements to eyes and other organs, and amazing piloting skills mirroring those used in navigating the oceans of the Pacific. Here's an example of how Cole threads these into the story:
Navigational directives automatically appeared in huge letters and diagrams on the exo-patches in the crab-claw sail, but Tia needed no help. She pushed the tiller and turned the drua into the wind, headed into a dilep path, a direct line of currents leading from Aotearoa all the way along Kermadec Trench and on to the Lau Archipelago. (87)
This novel is the creative part of Cole's PhD in Creative Writing. The research portion is available open-access from Massey University's library: Wayfinding Pasifikafuturism: An Indigenous Science Fiction Vision of the Ocean in Space. In her thesis, Cole studies science fiction space stories by Indigenous writers and explores what she calls "Pasifikafuturism", a theory about Oceanic science fiction and Pacific conceptions of the future based around the context of the Pacific Ocean (find a radio interview with Cole at RadioNZ for more information).
With this rich research background helping to inform Na Viro, Cole delivers an interesting and engaging science fiction story, and I hope we all get to return to this universe for more adventures in the future.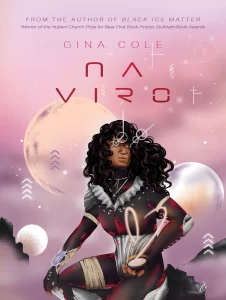 Na Viro is available from Huia Publishers (New Zealand-based) in paperback and ebook. Cover art by Elsie Andrewes.